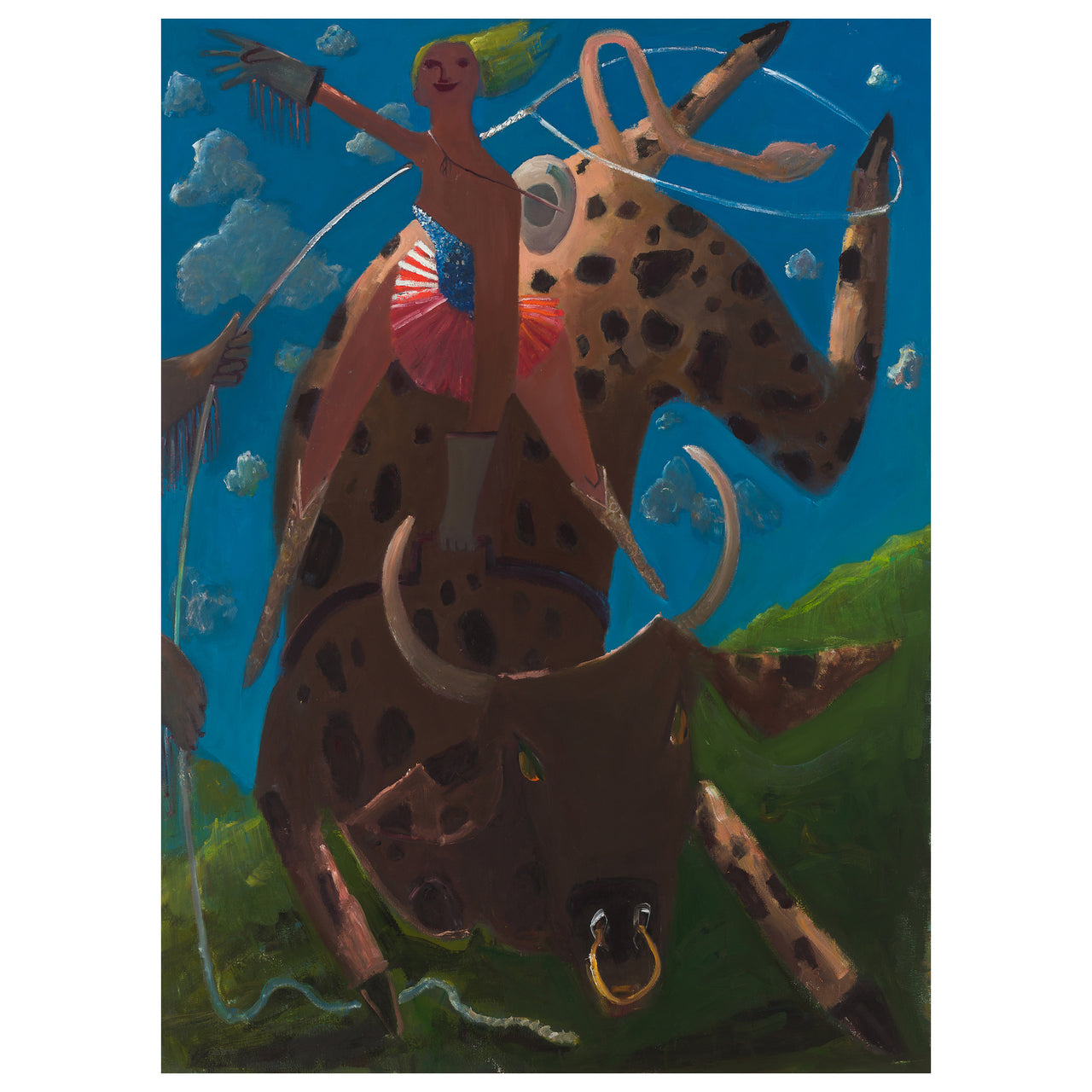 Edition of 30 - 2021
Archival pigment print on Hahnemühle - Photo rag 308g 
Signed and numbered by the artist

46 x 63 cm
From painter Marc Desgrandchamps' essay on Staver published in the 2019 Zürcher Gallery catalog:
"The first time I saw paintings by Kyle Staver, I was moved by their boldness. I also felt what I just described: they belong to this very particular movement of American painting. I thought of David Park and also a painter less well-known in France, Jack Levine, whose 1965 painting The Three Graces reminds me of the way Kyle Staver grapples with mythological subjects with freshness and humor. While related to this painting territory, her art is one-of-a-kind, made of universal subjects that she interprets in her own way. The compositions are monumental and clear, both violently expressive and subtle. The texture of her work plays with a voluptuous darkness, the bodies of the women and men are intertwined between conflict, seduction, rage and pleasure. Animals appear, like guardian angels or infernal monsters, their monstrosity tempered by their grotesque or comical appearance.
It is a world of paradise lost, overwhelmed by today's fears, but fears held at bay by a staging that provokes joy rather than fear, a joy also caused by an attention to form that does not reduce this painting to a simple narrative.

On the contrary, a real visual jubilation emerges from these reds, blues and yellows that animate the canvas like powerful light signals. This joy also comes from the humor that runs through these representations. Kyle Staver's paintings and sculptures are the product of a very serious art that does not take itself seriously.

Serious, in the formal qualities that structure each work by giving it the evidence of a painting, and not serious, in the lightness that subverts these scenes of judgement or martyrdom by bringing them to an irresistible burlesque condition.

Irresistible and overwhelmed, the figures clash in various poses, in an appearance of spontaneity, thoroughly pre-meditated by the artist. To define her art, I will evoke a burlesque beauty, burlesque and convulsive in the way that André Breton declared convulsion as a condition for beauty itself."

Marc Desgrandchamps, 2019

Shipping fees are calculated by destination (€10 - €30). Customers outside Europe are responsible for applicable duties and taxes.
The prints are packed in tubes and dispatched within 2 working days.